Despite both teams having depleted squads over Easter, Waikanae Firsts and Reserves teams turned the weekend into a winning one for the Club.
The Firsts, playing away to Stokes Valley, had raided the Reserves stocks but soon went ahead thanks to a Hawaiki goal  before Stokes Valley were able to equalise from the penalty spot.  As the first half drew to a close Waikanae missed a couple of opportunties, first from the penalty spot and then finding the post.  It was third time lucky after the sustained pressure when Ny put the goal in the back of the net to give Waikanae a 2-1 lead at half time.
Waikanae continued their dominance in the second half with Jay adding a third goal with about 15 minutes to play to take the final score to 3-1.
Meanwhile on a windswept Miramar Park the Reserves team, boosted mainly from available Saints players – and Toby from Strollers – filling the vacancies, took a physical game to Miramar in the Cap 4 clash.  After taking a few minutes to find their feet with some unfamiliar combinations, the Reserves put some wonderful interplay together out wide before sending the ball in for Deano to convert from within the box.  Waikanae 1-0 after 30 minutes, a lead they would take into half time.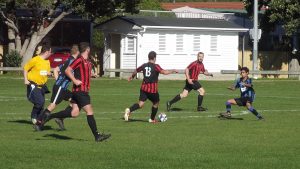 Waikanae dominated the early part of the second half and, with about 20 mins gone, a turnover in midfield with the Miramar keeper off his line saw Dino take his opportunity with a pinpoint chip from 30 or 40 metres out.  2-0 to Waikanae.  However with a subs bench of one Waikanae knew they would be grinding it out in the latter stages of the game.  With about 15 mins to go Miramar were able to convert from a direct free kick.  There were some nervous moments as corners were defended and Miramar finished with some territorial domination.  However with true grit and the Waikanae 'never say die' attitude the Reserves held on for a well deserved 2-1 victory.
Thanks are due to those coaches and players who answered a call to ensure we fielded teams on Good Friday – especially Pete Blank and the Saints players.  Your help was much appreciated.
The weekend will round out with the Waikanae Junior club providing the guard of honour for the Phoenix game against Melbourne City – kicking off 7pm at Westpac Stadium on Easter Sunday.