The 2019 Erin Walter Cup will again be held at Otaraua Park on Saturday March 30th.  Joining the Waikanae teams will be locals Manakau United and the KCU Sopranos but from further afield we are welcoming Wanui Masters, Wellington Marist and Martinborough FC.  Another feature of the 2019 tournament will be the appearance of Waikanae's womens team the "Ladyhawks".
The tournament will again be run on a "handicap" system with the first round kicking off at 9:00 a.m.
Waikanae teams are asked to be there by 8:15 to assist with the set up.
A BBQ will be fired up, there will be bottled drinks for sale and there will be raffles – so bring your cash as unfortunately we won't have EFTPOS operating
.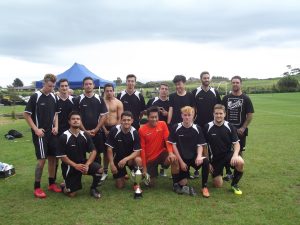 Otaki Purutaitama – winners of the 2018 Erin Walter Cup