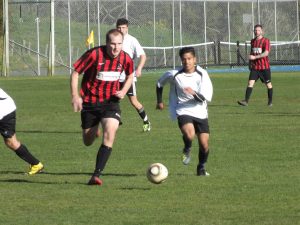 Jets 'golden boot' Ryan Leyten scored his 27th goal of the season in the Jets victory over Otaki Puru Reserves.
It all came down to must win games for the WAFC Jets and the WAFC Hawks in their last games of the season in the Bowl and Shield competitions respectively.
The Jets, the only team to defeat Otaki Puru Reserves this season, were away at Haruatai Park.  Needing a win to add the 'Bowl' to their Div. 2 title, the scores were deadlocked 0-0 at half time.  An early strike in the second half by Ryan Leyten broke the deadlock before Otaki levelled it up with their second penalty.  This was after their first penalty was saved by keeper Dave Horton daving to his left.  With time ticking down Richie Cooper managed to clinically finish a Jets attack to restore the lead, only to have a third penalty awarded to Otaki in the dying minutes.  Fortunately for Jets the shot was fired above the crossbar and the Jets held on for a 2-1 victory.
Meanwhile down the road the Hawks accounted for fellow club team the Choppers 4-2 after leading 2-1 at half time.  The win saw the Hawks lift the Shield by a point from KCU Babas in a very tight competition where three of the four teams had a chance leading into the final round.
Congratulations to the Jets and the Hawks for your victories in the end of year competitions.