The Annual Senior Prizegiving has once again been held at the Clubrooms on Te Moana Road with the highlight being the supreme award of the President's Cup to Simon Masters for over 30 years of dedicated service to the club.
Other major prize winners on the night of 21 September were Mason Aitken who took out the 'Emerging Player of the Year' cup after an outstanding break-out year for the First Team, and Ryan Leyten who took out the 'Golden Boot' award with a tally of 27 goals for the Division 2 and HK Bowl winners the Jets.  Earlier the 'rediscovered' Log of Wood was presented to Charlie Sturman and Dave Horton from the Rest of the World team for their 6-5 victory over the Kiwis earlier in the day.
Treasurer Tom Engelen and Nick O'Mara were also recognised for their 10 years of service to the Club.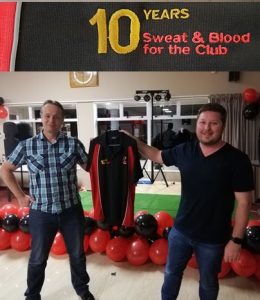 Hawaiki Te Huki was awarded 'Player of the Year' for the First team with Lawrance Gounder, in his first year with the club, a popular winner of the 'Players Player' award.
The remaining 'Player of the Year' and 'Players Player of the Year' awards went to:
Reserves
Alex Andrews and Jamie Sturman – Player of the Year
Dino Kokkinidis – Players Player
Ladyhawks
Gemma Neve – Player of the Year
Monique Engelen – Players Player
Saints
Dominic Todd – Player of the Year
Simon Lindsay and Cody Thorpe – Players Player
Strollers
Sam Selby – Player of the Year
Tobi Cerhak – Players Player
Jets
Brett Morgan – Player of the Year
Michael Cooper – Players Player
Hawks
Pravin Vaz – Player of the Year
Aaron Hopkins – Players Player
Masters
Ethan Lahmert – Player of the Year
Ryan Jackson – Players Player
Choppers
Haydin Ward – Player of the Year
Ben O'Brien – Players Player