Waikanae Juniors formed the guard of honour Easter Sunday for a crucial Wellington Phoenix home game at Westpac Stadium.  Playing Melbourne City the Phoenix needed a win to cement their playoff spot and push for a home advantage.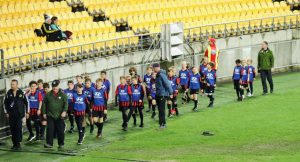 While it might be a stretch to suggest our juniors inspired the Phoenix to a last gasp victory, it would appear some of Waikanae's Easter weekend winning luck had rubbed off on the night.  Earlier on Good Friday Waikanae's Firsts and Reserves teams had recorded good wins over Stokes Valley and Miramar respectively.
With a draw looking inevitable Roy Krishna managed to bang home a 94th minute winner for the Phoenix a warm up the crowd and delight our Juniors.