DRAW
vs Manakau – 17 Aug. (4-2)
It was rather ironic that for the worst weather of the season we had our best turn out – certainly for quite a few weeks.  Even then a few players unavailable – Jay, Shaun & Geoff – but still a luxurious subs bench of four!  I could feel my hammy tightening as the temperature plummeted and the rain drove in taking the subs bench to three.  Manakau of course had the temerity to cast aspersions on the condition of Lake Jim Cooke – but with its wetlands protection status still to be confirmed by DoC, and a gold watch promised to ref Jason, the game was soon underway.
For the first 30 minutes Jets dominated possession & territory, from the supporters position in the forest you needed binoculars to view events down the far end of the field.  Our passing game is pretty well ingrained so we did what we like to do – even though conditions were not conducive to that style of game.  We missed a few opportunities – putting the ball in the right places but the players unable to swim there in time.  I knew there was a place for water polo sessions in training!  Manakau defended staunchly and always put pressure on the ball but finally Ryan managed to crack the defence and we went a goal up.  As usual Manakau proved a threat on the turnover with the long ball and big fast centre forwards – on one occasion we were lucky not to concede as the ball ran across an open goal.  Always one for a long game strategy Wolfy subbed off our two strikers with time to play in the first half.  While some may have called for a concussion assessment (of Wolfy) the strategy was sound – resting our two key strike weapons in the energy sapping conditions and mixing it up with Manson up front who had a great game putting pressure on the Manakau defence as he got all 23kg on his frame through the clinging mud efficiently.
At half time with a 1-0 lead we knew it would be a battle of attrition with Manakau never giving an inch and desperate to claw back the advantage.  Our strikers returned – hungry, and a little hypothermic – but that was to be expected.  Pretty soon Ryan had his second goal to provide a bit more of a buffer but in this competition it seems you're never destined to be more than a goal ahead of your opposition and finally Cam was able to latch on to a through ball giving Wolfy no chance and bring the score back to 2-1.  Continued Jets pressure again saw the Derryn assist/Ryan  goal combination work yet again as Ryan had his hat-trick and 25th goal for the season – forget golden boot, the club needs to invest in a platinum one!  Now at 3-1 with the final quarter beckoning the game needed some spicing up and, not wanting Manakau to come all this way for nothing, we decided to help them out with an exciting finish.  As the ball was crossed in to our box Matty Smith had the opportunity to clear but the definitive call from Wolfy was that he had this covered.  Now it might have been his memory casting back to the firm grounds of summer soccer, or that his 5mm cleats failed to deal with the knee deep mud & water combo – but he slipped & couldn't freestyle there quick enough leaving an open goal for Manakau to raise their hopes at 3-2.  The silver lining an obvious $5 fine for team funds.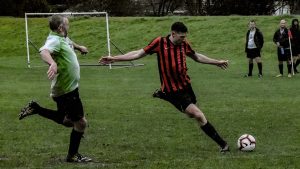 At least the excitement kept the supporters from succumbing to hypothermia as we played far too much of the game in our half for my liking.  However a couple of counter-attacks of our own-  firstly saw Mike undertake an outrageous volley that hit the crossbar and would have been contender for goal of the season-  then finally another attack up the left with Josh sending the ball in again to full speed Ryan who with perfecting timing rocketed it into the net restoring a two goal buffer with minutes to play.  Final score 4-2 with Ryan scoring all four goals.
I take my hat, cap, beanie, balaclava and scarf off to those who took the field.  While some nice finishes it all started from the defensive unit – Chris, Brett, Jade and Matt Smith.  A Paul/Mike midfield that defied the conditions with speed skill and passing while Josh ran hard up the left & Richie the right to to get the strike combination of Derryn & Ryan.  Some great cameos too with Manson a revelation up front in the conditions.  Matt Reid and I happy to sacrifice our burning desire to take the field so the rest of you could enjoy the conditions.  Thanks Jason for the excellent refereeing in the conditions, to Manakau for playing the game in great spirit & returning to the Clubrooms after.  We wish you well for the rest of the comp and especially hope you can topple Otaki for us!
Don't forget Picton activities – buy your pink shirt!………Gg