DRAW
Full draw & results can be found at http://www.capitalfootball.org.nz/FIXTURES-RESULTS/Senior-Mens-Competitions
DIARY
22 June v WAFC Choppers – Waikanae 2 @ 14:30
29 June v Manakau – Waikanae 1
6 July v Hawks – Waikanae 2
13 July v Paekak Central – Waikanae 2
4 August  Raffle money for Picton due
23 August  Picton balance due a/c 06-0541-0417861-35 tba. (est. $152)
MATCH Report
vs KCU Babas – 15 June (6-2)
The beauty of our geographically spread (and uncommunicative) team is you never quite know who's going to turn up Saturday until just before kick-off.  In this case we knew Richie had geographically spread himself to the Gold Coast.  Obviously Pete geographically spread himself in front of the fire at home (until just after kick off) and Johnny Y had geographically spread his knee ligaments.  In the end a pretty good turn out and Wolfy, taking a leaf out the Hurricanes book, afforded some attacking impact on the bench in the form of Derryn & Mike.
While their record hasn't been that flash, the Babas are always thereabouts and contain some classy players and you know any team in this grade is a threat.  Last time we played only a goal separated the teams, albeit the Jets had a depleted line up.  Babas also turned up with some young fast & skilful college talent so their mix would be challenging.  Another addition to their line-up was Zac Ottow who has a lethal finish on him.
I'd like to think we dominated the early exchanges with our passing game while Babas threatened on the break with their youthful talent.  On defence Jade was equal to the task, I'm not sure if the nickname "hoover" will ever stick (if you'll pardon the pun) but he swept up a couple attacks with a turn of speed and committed accurate tackling of his own.  He was ably supported in defence of course by the Matthews brothers & Manson.  Meantime Chris, Brett, Jay & Paul worked hard to put Shaun & Ryan into space where they often split the defence apart.  After a couple of near misses Ryan put one in the net after 10 minutes.  Another 10 minutes later Brett managed to put the ball across the line from close range as a sequel to a set piece play.  However as we were looking comfortable Babas came back with a well worked goal to put the pressure on at 2-1.  Fortunately for us they immediately released the pressure with an own goal.  While the player concerned was gutted the goal could be attributed by great pressure from Chris who did everything but write his name on the goal to create the mistake.  Derryn & Mike were introduced and made immediate impact adding to the pressure we could apply.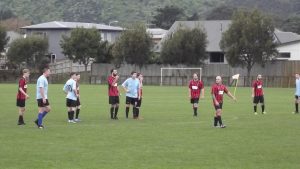 Further breathing space was added when just before half time Ryan had his second goal as he managed to send a free kick sailing in from outside the box.  I'm sure you've all seen the video on Waikanae's Facebook page and watch this space for Best Cinematography nomination for Luke, best screenplay Brett and overall best training video.  The only other acting award went to a Babas player who hooked Matty Smith's arm in his jersey and then claimed Matt tried to pull him back.  Matt denies his obsession with Smackdown & Raw had anything to do with it.   Half time 4-1 to the Jets.
Our dominance continued in the second half with Ryan notching his hat trick.  Babas made the most of their limited chances with Zac showing his class by precision drilling one low down just inside the left upright from inside the box to make it 5-2 but the game was sealed when Ryan had his fourth goal and our sixth before the final whistle.  A pleasing 6-2 victory for the Jets.
The game was played in good spirit and very well refereed by the Babas.  It was good to have a beer back at the Jolly after.  Next week we have Choppers who continued their improving form with a draw against Otaki Puru reserves away.  It was a close game last time we met so it will be a beauty on Waikanae #2 on Saturday.  Let Wolfy know if you can't make it – & if the ground's open try to make it to training Wednesday.  Oh, and a reminder to get those beer raffle tickets sold!