DRAW
Full draw & results can be found at http://www.capitalfootball.org.nz/FIXTURES-RESULTS/Senior-Mens-Competitions
DIARY
23 March – fundraising evening at Pete R's
30 March – Erin Walter Cup @ Otaraua – be there 8.15am for 9am kick off
6 April  Season begins 2.30pm v Masters @ Jim Cooke #2 (to be confirmed)
27 April v KCU Baba's at Waikanae Park
11 May  Quiz Night
MATCH Report
V Otaki Purutaitama Reserves 13 April
A fine day with a southerly breeze greeted us at Otaki for the round 2 clash at Haruatai Park.  Formerly Otaki Masters had done some recruiting and with some younger blood and a name change looked to me more of a threat than previous years.  The week before they had comfortably disposed of KCU Babas 5-2.
No-one told Wolfy of our plan to lull them into a false sense of security in the first half.  We looked dominant early on but it was one of those games where the loose ball always seemed to find an Otaki player – the 50/50s went their way and to be fair on some of them we lacked the killer instinct.  After ten minutes we had our first goal when a pinpoint corner found Brett's head (or rather he found it) and drilled it past the keeper.  We probably missed a trick on a couple of opportunities but Otaki made the most of theirs and managed to score twice in goal mouth scrambles from set piece to set us back 1-2 at half time.
What was needed was a bit of a rark up and Wolfy thankfully delivered it.  We knew what we needed to fix and in the second half set about fixing it.  A goal soon followed to equalise and then another (Ryan & Mike the scorers) to give us a 3-2 lead.  But just when we were starting to relax an unchallenged run up the middle followed by a screamer of a shot saw Otaki equalise once again.  To our credit we just put our foot to the pedal and tried harder.  Our domination saw Rich put the ball in the back of the net and Ryan, more interested in his ballet pirouette form (and not his fines $ balance) miss from point blank range.  Brett however managed to bookend our scoring with another header to give us an assertive 5-3 lead which we held to the end.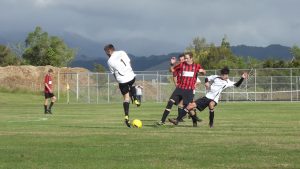 A true team performance with everyone playing their part, including Charlie, who put in an error free display.  However 'man of the match' went to Manson for his deceptive skills out on the left and definitely showing Ryan how ballet skills should be executed.
We have the Easter break then our next match on the 27th will be against KCU Babas at Waikanae Park.