DRAW
Full draw & results can be found at http://www.capitalfootball.org.nz/FIXTURES-RESULTS/Senior-Mens-Competitions
DIARY
22 September – Kiwis vs Rest of World match
29 September (Sat.) – Club Senior Prizegiving $20pp – 3 meat spit roast & DJ

the picton REPORT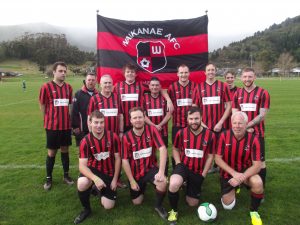 An early start saw us arrive for an 8am Friday rendezvous at the Interislander  ferry terminal, departing for the Jet's  6th annual expedition to the Picton Picnic.  Approx. 300kg of Tuatara had preceded us and we were proudly in possession of the best team flag in NZ!  …no the world! …no this half of the galaxy!  Most of the squad was there, just missing the Cooper twins, Paul, Jordan and Charlie.
After a pretty uneventful trip down and settling into the Tombstone it was a joint court session with the Saints where Gg was ad-lib prosecutor for Judge Johnny.  Fines ranging from 2 (guilty plea) to 4 (not guilty plea) shots of 800% proof schnapps &/or black Sambuca.  I think everyone agreed it was a fair court with a fair hearing followed by inevitable convictions.  Things got a little hazy after that but anyone who stepped up to the bar at the Crow Tavern received a warm welcome from a Wainui team new to the tournament who just loved our singing.
Saturday dawned with a draw that saw us first up against Wainui and then going back-to-back with another new team to the tournament – Hutt Trash.  Then it was an early afternoon game against Greymouth Marist followed by our great friends Paekak in the penultimate round of the day.
Wainui proved to be pretty useful and it was an even game with the only thing separating the teams an unlucky (for us) penalty to Wainui which they duly converted.  We were unable to peg a goal back and unlucky with a couple of chances to lose 0-1.  It didn't get any easier with Hutt next sporting a couple of Prem players but we gave a good account of ourselves conceding an unfortunate goal to an offside player (standing on our goal line) and then another late in the match as we pushed to get an equaliser, going down 0-2.  It should be noted that Hutt topped the pool, made the final and only went down to the Saints in a penalty shoot-out so again a good showing from us.
The afternoon games would be more to our liking but with a squad of just 13 and a couple of injuries kicking in it was going to be a battle of attrition.  Greymouth Marist (West Coast competition winners) were next up and that turned out to be a friendly and even encounter – the wind knocked out of our sails a bit when we conceded late in the first half to go down 0-1 at half time.  With the simple equation of needing to score a couple of goals we set about doing that – starting with some domination that saw Ryan finish off in typical style.  Then after a great run up the left by Matt Smith (who beat at least 15 players) he laid a perfect ball across the goal for Craig to finish at the far post for us to take a 2-1 lead.  Wolfy finally came off his line to give Craig a hug at half way and it was probably under a deluge of bodies that Craig picked up his next injury.  Greymouth came back and equalised and in what was now a goal-fest, Derryn managed to put us ahead again 3-2.  But with the clock ticking down Greymouth managed to take advantage of yet another liberal interpretation of the offside law to snatch a late equaliser and finish with a 3-3 draw.
So to the final match of the day where we were effectively down to eleven fit players and playing Paekak (with subs) who were slightly fresher having only played two games to our three.  Again an even game played in good spirit and, after holding off some initial Paekak attacks, we ground our way into the game and finally converted some late half dominance when Ryan coolly converted to give us a 1-0 half time lead.  Unfortunately some tired (or slow) legs – namely mine – allowed 'Player of the Tournament' Antony (Frenchie) to ambush and tip a ball wide of Wolfy for a late equaliser, another draw, 1-1 this time.
Another great feed at the Clubrooms then it was in to town where watching the Warriors could make us feel proud of our performances.  Fortunately Picton has a number of establishments that allow you to replace the carbohydrates lost after a hard day's football.  I want to know how after attaining a record 27,000 steps on Saturday (incl. early hours Sunday too) I returned home 2kg heavier!!!
While we finished even with Paekak and Greymouth in our pool we were selected for the wooden spoon match, and after two years of trying and failing to win it – could this be our year?  I'm sure Picton stacked their 'Tomcat' team with the best the South Island had to offer and after a brave fight we conceded a couple of late goals trying to peg an equaliser but went down 0-3 for a flattering result for Picton.
Once again it was a great event where memories are made and quite a few lost.
A huge thank you Wolfy, Johnny & Pete as the key organisers and fundraisers of this pinnacle event of the season.  Thanks Mary & the Jenkins clan for making the best team flag of the tournament and something we can be proud of.  To the gentlemen of the Jets – what a great bunch of guys and well done for an outstanding season!
Many more photos from the tournament can be found here: https://www.dropbox.com/sh/4qwcadpr8zzvzqr/AADGHQnUHDcKxMjsX6xwsthTa?dl=0
Gg