Waikanae AFC are forming a new HK Division 2 social team in 2020.  If a relaxed pace with enjoyment of the game are priorities for you please contact Charlie Sturman (President) or Graeme Goulden (Senior Convenor).  We are looking to complement the squad we have assembled.
Trainings are 6:30pm Wednesday evenings at Waikanae Park.
Draws and results can be found at http://www.capitalfootball.org.nz/senior-mens-competitions/horokapiti-local-leagues
Cancellations are advised on Capital Football's Facebook page https://www.facebook.com/CapitalFootball/
DRAW
4 July vs WAFC Wanderers @ Waikanae 1
11 July vs KCU Hearts Reserves @ tba
18 July vs Manakau @ Waikanae 1
25 July vs KCU Thirds @ Matthews Park
1 August vs WAFC Hawks @ Waikanae 1
Match Report
13 June vs Otaki Purutaitama Reserves (1-10)
The bad news out of the weekend has apparently been the discovery of a new strain of virus.  Covid-20 Reserve has thought to have emanated from a game held at Waikanae Park although origins indicated it may have come from Otaki.  First signs appeared when questions were asked of Waikanae Coasters as to the result of their game on Saturday.  Initial symptoms included a dry cough, a choking sound followed by gasping for air as the players tried to answer.  Members of the public observed the welling of tears, general shortness of breath and redness of cheeks.  Those infected have also complained of soreness in their joints and muscles that they predict will linger for some time.
Health experts are recommending intravenous lager or ale followed by a healthy dose of amnesia.  While initial results seem promising it is likely the victims of this virus could also require counselling for some time to come.
Anyway on to the game…  …with Otaki fielding only their "Reserve" team in HK comp we were still expecting a tough second up game.  The main thing both teams had in common was a squad turning up fashionably late in the day.  The Otaki faces were instantly recognisable, a few from last year's Div 2 team, and a few from last year's Div 1 team!  Si Masters immediately nominated himself as centre back in a vague hope that he could be the finger in the dyke.  With Jeff subbing in goal for Ben (thanks) we were lucky we had some quality as a last line of defence.
Those that have seen the movie Predator may have some idea what happened next – swift athletic figures, invisible to the naked eye, wreaking havoc leaving ordinary humans grasping at shadows.  We did well to hold them out for five minutes and a second goal followed soon after.  We continued to battle away staving off attack after attack, corner after corner.  Jeff did manage a few 'goalie runs' to add some variety.  Otaki added two more goals – it could have been more had Jeff not made a great penalty save.  On a very rare occasion we made a break into their territory, Colin was able to convert.  On another rare occasion I had a golden opportunity to maybe slot a second goal but sprouted chicken wings as the goalie rushed me.  We went into half time 1-4 down, a score that probably flattered us given the possession and territory stats against us but was in fact a testimony to the grit, determination and heart we showed to chase everything down and grimly hang in there.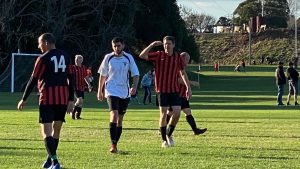 A blitz straight after half time saw Otaki add 3 goals and throughout the rest of the half another 3 to see a final score of 1-10.  It was glaringly obvious the gulf between the two teams – they put on a 'top of div 1' performance with a number of class players across the park.  I'm proud of the spirit we showed for 90+ minutes giving 120%.  When you nominate a goalie and centre-back as two of your top players you know the final result had potential to be far worse.  It is tough naming names as again there were some great performances across the park and individual efforts in a losing cause. Barring a re-match in round 2 I think it's safe to say we've probably had our toughest game of the season.  We'll meet some good teams and we won't win all our games but I doubt we'll face anything like that again!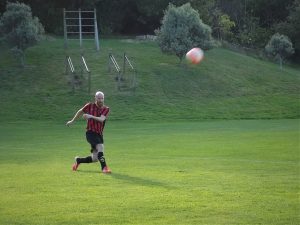 Training Wednesday 7pm at Waikanae Park (might need to confirm as I think Juniors now have until 7pm).  Next week we are playing KCU "The Force" at Mazengarb Park.  Keep us posted on your injuries although at this stage our numbers are looking ok.